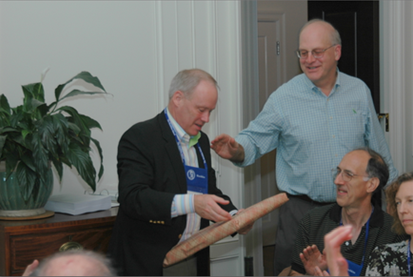 The Success Coach℠ plans, designs and facilitates interactive team-building programs for companies, key employees, and non-profits to strengthen and communicate new strategies, introduce change, improve communication skills, and raise productivity levels.
Does your group work well together?
Do you need to outline your vision for the company?
How do you change the ground rules?
Are employees motivated and focused?
Customized Programs – 2 Hour, 1/2 Day & Full Day
I read about Doug Campbell and The Success Coach, and the measurable results he had with one of his clients in the Wall Street Journal. As the developer of Actor's Studio and 100 other cable shows, Cable Ready had almost tripled in size, and we faced challenges of updating our systems, particularly financial reporting and management, and building a strong cohesive team with our talented new young employees. Doug guided me through the process and inspired our team. We have moved to a new office and have gained market share in a "tough" market. Doug was "sent from above" and instrumental in moving me and the team forward.      Gary Lico (President and Founder)  Cable Ready, Norwalk, CT
The program was interactive, fast-moving, and informative. My operations team from across the country was very impressed. We plan to use The Success Coach again for additional team building programs.    Jeff Mignone (Vice President, Operations)  Byram Healthcare, Trumbull, CT
Doug Campbell designed and developed a 1 & 1/2 day retreat – a first for our real estate development company – this event clearly launched Spinnaker to new heights and resulted in new successes and learnings for our entire team. We have since added employees, completed and started new real estate projects, and moved to a larger office. We look forward to our year-end retreat with Doug to review and share our updated business plan which he helped develop.     Kim Morque (President)  Spinnaker Real Estate Partners  South Norwalk, CT
Selected Team Building Clients 
ABC Sign Company
The Alliance Group
Altamira
Benefit Planning Services LLC (insurance company)
Bliss PR
Boardroom, Inc. ($100M+ publishing company)
Byram Healthcare (home health care products & supplies)
Cable Ready (launched Actor's Studio in market and 100+ other cable shows)
Cort Furniture Rental – A Berkshire Hathaway Company
Cruice Financial Organization
Darien YMCA
Eastern Land Management (landscaping)
Ed's Garage Doors
Exposures – Division of Miles Kimball ($35+ million direct mail catalog company)
Flagstar Bank
HEH Associates
The Huntington Group (executive recruiting – high tech)
Kirkpatrick Construction
Laidlaw Transportation (Canadian transportation company)
Law Offices of Robert Sisca
Maxim Communications (communications/web design company)
Nutmeg Settlement
Norwalk Senior Center
Stewart's Market (independent supermarket)
Spinnaker Real Estate Partners (innovative national real estate developer)
Tiger Information Services Inc (temporary high-skill workers for Wall Street)
Verilux (healthy lighting company)
WinWholesale